Taking good care of YOU is more important than ever when separating or divorcing. It can make all the difference to how you cope emotionally, how you deal with the legal process and how you approach the many co-parenting challenges that lie ahead. For most, separation is a deeply raw, intensely emotional, hurtful and even painful experience which at times will feel totally overwhelming. Cortisol, the steroid stress hormone, ravages the body and brain, depleting the immune system and damaging both our mental and physical health. It's common to experience bouts of insomnia, anxiety, low moods and often feel exhausted. Stress also brings our primal 'fight or flight' survival instincts to the fore, activating the 'reptilian' (lower) brain over the sophisticated, 'rational' (higher) brain we so desperately need to engage. It's easy to see why we panic, act on impulse, make snap decisions and find it so much harder to focus and rationalise at times. Naturally, any attempts at negotiation or mediation are less likely to succeed when we lose the ability to remain calm, actively listen, exercise empathy and focus on the issue at hand!
Your children are watching you even more closely, having picked up on all the parental tensions, atmospheric pressures & discord vibrations in their family 'solar system'. They are relying on your support and expecting you to be resilient at a time when you're feeling most vulnerable.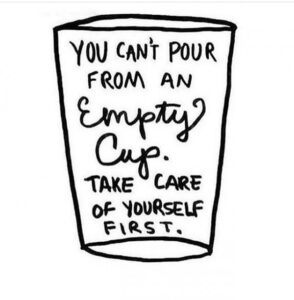 Mindfulness is vital to everyone's wellbeing and here are some practice tips:
Seek the right support at the right time: certainly a counsellor/therapist/coach can help you build resilience, but there is no substitute for specialist advice when dealing with your separation or divorce. You will need information about all the varied collaborative options available to you, as well as accurate and reliable legal information and expert co- parenting guidance to help you reach valuable agreements with your ex.
Family & friends: they mostly mean well but those closest to you won't always have the best advice or most balanced view. They may struggle to be impartial, seeing and hearing only your perspective. Appreciate their patience and support as good listeners but don't necessarily act on their opinions.
Knowledge is power: empower yourself through education and do your own research. Find articles and books recommended via trusted sources. Don't rely on the internet to provide the answers as there is always plenty of misleading or false information.
Prioritise: conserve as much personal time and energy as possible. Don't let lawyers or other advisors rush or pressure you into issuing responses or quick decision-making! Take time to consider proposals. Set aside those court papers or witness statements when you're just not in the right frame of mind.
Time out: it's not selfish to take some "me" time! You need to nurture yourself to be the best parent you can be. Your children will appreciate your positive mood.
See things through your children's eyes: you always want to find solutions and a positive way forward for their sake – no matter what you're faced with. They want to see you treat the other parent fairly and not get caught up in any personal/ parental conflict. Focusing on supporting them will help you through the tough times!
Focus on the positives: though at times it may be hard to see why your relationship has come to an end and to imagine a brighter future, consider the theory that not all partnerships are sustainable. Over 50% of the population separate. We are all evolving and everything must change. You deserve to find happiness and to be loved.
Be kind to yourself: remind yourself that you're experiencing a 'loss-cycle' grief process and it can take a significant amount of time to reach the acceptance phase. The more you understand your emotional responses and associated behaviours the more you engage the rational brain – helping you feel balanced and in control.
Work/life balance: it's best not to take on any new or additional work commitments which may only sap your energy even further. If possible, try to cut back on your working hours, allowing more time-out to nurture yourself & your kids.
Be as open as possible – it's good to talk: letting others know it's a difficult time for you can take the pressure off. Colleagues and friends may rally and prove surprisingly empathetic and supportive when they know you're struggling.
EAT well: be mindful about nutrition, avoiding binge or comfort-eating. Reduce (or cut out!) alcohol as it helps you keep a clear head. Monitor caffeine, etc.
SLEEP well: find ways to relax and calm the mind. We don't function at our best when we're sleep-deprived. Excessive 'screen-time' over-stimulates the brain so try to limit your late-night phone/computer usage and too much social media interaction.
EXERCISE well: physical exertion is great stress-buster whether it's boxing or yoga that appeals to you! Walking outdoors is a really healthy way to life the spirits. Dancing makes you feel alive. Whatever it is – do something that makes you feel happy!
Explore new challenges & activities: now is the time to boost your self-confidence! Renewing your enthusiasm for a past interest or hobby can be re-energising. Trying something totally different is a great way of meeting new people. Using our initiative gives us new purpose, drives motivation and helps us feel hopeful.
Focus on the future: it takes courage to keep moving forward! Though it may often feel easier to shy away from everything and everyone (especially the other parent) in the long term, isolation is not the answer. Seeking some divorce coaching or joining a 'break-up' club can be very beneficial but try to limit how much much time you focus on feeling sorry for yourself or you may end up 'stuck' in the past.
Explore 'total wellness': taking stock of your mind, body and spirit is an important part of how we embrace change. We become increasingly self-aware, analysing and examining our past relationships more closely. As a result we are seldom the same in our next 'life' and the lessons learned make us (hopefully) all the wiser the 'next time around'.